The Strongest Judoka of Japan: All Japan Judo Championships April 29, 2010
Nearly 10,000 judo players and fans gather at the Nippon Budokan to see who the strongest judoka is in Japan on the 29th of April—the day for the All Japan Judo Championships—every year. This competition has only the Open weight category, and this year, it doubles as the last screening for the World Judo Championships Tokyo 2010. Already, 12 men and 15 women have been nominated as the members of Japanese squad for the Championships. Vacancies are only for the male competitors of the +100kg and Open categories. The last Japanese representatives were decided according to today's results.
All the competitors attracting great attentions got through the early rounds and reached quarter finals: the defending champion Takamasa Anai, the former Olympic gold medalist Keiji Suzuki, the former world champion Yasuyuki Muneta, the "twin tower" of Japan, Hiroki Tachiyama and Kazuhiko Takahashi, and the 19 year-old Kaihan Takagi.
Crowds were shocked by two giant killings in semi-finals. Tachiyama beat Muneta by keikoku; Takahashi defeated Anai by hantei—all three referees judged Takahashi as a winner.
Consequently, the tatami mats of the final were dominated by the "twin-tower." They were at the same age (although Takahashi had already celebrated his birthday this year), and went to the same high school and university. The final of the All Japan Judo Championships was the arena for their showdown; no one can imagine any other place surpassing it for them. Each of them got one yuko; the battle was really heated up. Finally, Takahashi won the championship by chui. Reaching the final, Takahashi beat two former champions: Suzuki and Anai. He truly deserves the crown of the strongest judoka of Japan this year.
Postscript: Takahashi and Suzuki will come out as Japanese representatives in +100kg weight category of the World Championships. Tachiyama will join the Open weight category; another Japanese fighting in the Open will be selected among Takahashi, Suzuki and Anai.
Masaya Shimokusu
The Three Men Standing: Press Interview of All Japan Judo Championships
Every year, on the 29th of April, the All Japan Judo Championships is held at Nippon Budokan. This competition, starting in 1948, has a long history, and has only the division of Open Weight Category; this championship decides the strongest Japanese judoka of the year. All judo players and fans in Japan draw their fervent attentions to the championship; even those living overseas such as Mr. Kosei Inoue.
The day before the championship, the defending champion Takashi Anai, the gold medalist of the Athens Olympic Games Keiji Suzuki, and the former world heavy-weight champion Yasuyuki Muneta joined a press interview.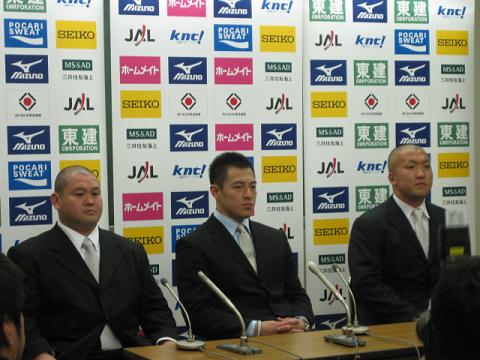 "I am the defending champion, but do not feel much pressure as I expected," Anai said. "I have a strong determination to fight, rather than a mind to defend something. This will be the last All Japan Judo Championships held under the Kodokan refereeing rules, but I do not care about that very much now because today is just one day before the fight. Since the day of the last year, I have grown up in all aspects—mentally, physically and technically, and I felt that I have been supported by many people. Tomorrow, I really wish to win the championship with all my might."
Muneta expressed his determination with simple words: "I have been preparing for the competition as usual. As I have not joined competitions for rather long, I will fight each match with all my power. I will do my best."
"I am pleased that I can join tomorrow's championship because this year, I had to get through the preliminary regional contest," Suzuki said. "Since the All Japan Judo Championships of Weight Categories (held from 3rd to 4th April), I have fully practiced to win this championship. I have trained myself well and my injuries have been perfectly healed. Well, I do not have any anxiety about my own body. The last piece I have to handle is my mind. I wish to again become the strongest man of all over Japan."
Masaya Shimokusu